Small Talk Six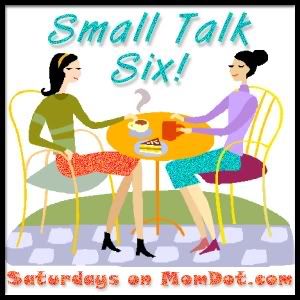 This week's
Small Talk Six
is to "Name six things you love that are Green." I'm interpreting this one literally, rather than the 'green' moniker for things that are environmentally friendly. I hope you all don't mind.
1. Kermit.
If you're of my generation, as soon as you think of green things, this song inevitably comes to mind. Poor Kermie, he's not happy with being green-but I love him anyway.
2. M&M's
Yes, the legend isn't true about their abilities as an aphrodisiac, but I still love my peanut M&M's. It's a rare treat, because I don't keep anything with food dye in the house.
3. Asparagus.
I prefer it roasted in olive oil, with a sprinkling of garlic, kosher salt and pepper, but serve it any way and I'll eat it. Yum.
4.Mike Wazowski.
The neurotic, no respect partner to the warm and fuzzy Sully has a lot of charm beneath that frantic exterior. Any guy who'd allow his girlfriend to call him "Googly Bear" in public deserves some love!
6.Basil
It makes italian food so much tastier, and is the reason why I love Insalata Caprese so much. Now, I just need to plant some in the yard so that I'm not paying through the nose at the grocery store!
6. Broccoli
Can I tell you how often someone sings "chopping Broccoli" to me, because I make it often. I prefer cooked and dipped into a tasty fondue, but I'll pretty much eat it any way it's served, and my Broccoli Bake gets raves from many.
Did you like my list? If so, why don't you join in? Head over to
MomDot
today and find the linky list for participants. I'd put it here, but this post is actually scheduled today, since I am camping with the kids. (If I get bandwidth where I'm going, I'll put the link in sometime Saturday-if not, it'll go up Sunday)